Buy 3 and get 10% off
Buy 6 and get 15% off
Buy 12 and get 20% off

Almost every desirable quality of a happy, balanced and long life is included when the famous fruits Haritaki, Amalaki and Bibhitaki fruits are described in the Ayurveda classical texts. Triphala with Rose from Maharishi Ayurveda combines their best properties in a nutritional supplement of high reputation.
Veda Lila's Quality Guarantee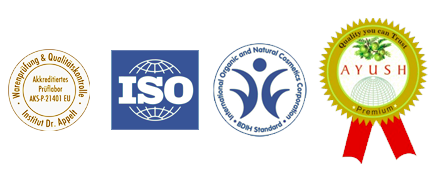 • Supports digestion
• Helps the absorption of nutrients in the food.
• Amalaki is a powerful antioxidant and source of vitamin C.
Triphala with Rose clenses slowly and can be taken for a long period of time.
Non GMO / Sugar Free / Gluten Free / Vegetarian Capsules / Organic
Ingredients:
Terminalia chebula(Haritaki), Emblica officinalis(Amla), Terminalia belerica(Bibhitaki), Rosa centifolia(Cabbage Rose), Starch, Magnesium stearate, Talcum(Talc), Acacia arabica Willd.(Gum Arabic)
Triphala Plus Powder Tablets - More Effective with Cabbage Rose - 1000mg per Tablet, 60 Vegan Tablets, Organic, 30 Day Supply - Aids in Regular Digestion - No Binders, No Fillers, No Additives
60 tab